Earlier this month I won a giveaway on
QuiltStory
(Thanks Heather and Megan!)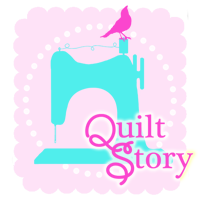 and it was a $25 gift certificate for
Southern Fabric
.
I was pretty excited to get a chance to try out a new online fabric shop so I hurried over to their online shop. Let me tell you, they have a lot of beautiful fabric. It is worth noting that the yardage is sold in half-yard increments instead of full yard, so if you pop over there for a look and find something you want, make sure you order the correct amount. Their prices I would say are about average for a quilt shop and they have a very nice discounted/clearance section (I'm a bargain shopper, so that is always the first place I look for fabric).
Here is what I ordered: The Pumpkin Party Layer Cake by Moda. I haven't had an opportunity to play with a lot of precuts and since I've wanted to make a Halloween quilt, I picked up this item. It arrived today. (YAY!) Check out my new loot!
My brand new layer cake
The fabrics in this line, courtesy of Moda
I think the only fabric not included in the layer cake was the large pumpkin one in the center and that was okay, 'cause I don't really like that one anyway. This one will be made into a twister quilt - the other twister quilt I was putting together from scraps I ended up tossing out because I hated it, I mean really hated the color combination. I didn't even finish putting the top together. And no, I don't feel guilty about not wasting my time on something I hated.
This has got to be the ugliest quilt I've ever seen. I made it disappear.
Now onto my November NewFO (Linky on the right)
I have one half of it done and the other half must be done by Christmas since it is a present.
Here is the top half. Now since I'm chronically indecisive and I couldn't actually choose between two panels for this quilt, I decided to make one half the kittens and the backing will be the cheetahs below. This will be a two sided quilt, and I pray that I can get everything lined up when I go to sandwich it.
The border I'm adding to the cheetah side will be a string of brown pinwheels.
There were a lot of extra pieces left over from the rainbow side so I cut all the fabric that was left into 3.5 inch strips and I'll be eventually making a small strip quilt from the mini ninepatches and the fabric strips. All these were from my stash and there really wasn't enough of any one fabric to put back.
I guarantee this quilt will blind the viewer. :)
Well according to my calculations, I've still got two days of my four day weekend to go so hopefully lots more crazy crafty nonsense going on tomorrow. All my friends are coming over tomorrow to work on Dagorhir projects, so I'll either be working on my Confessor's Dress or a Akron Dragon Tunic. Pics or it didn't happen!